13.05.2022
EUROVISION 2022 FASHION REVIEW
Huhey! And welcome to my OFFICIAL fashion review of Eurovision 2022! As always, you'll find plenty of EYE-CANDY and FIERCE & FAB outfits, but also some whimsical stuff. LET'S DIVE RIGHT IN. The three presenters, I must say, are impeccably dressed. Mika, Laura Pausini and Alessandro Cattelan show classic STYLE and GRACE with their SOFT SPOKEN but also LOUD party clothes, I am especially thinking that Mika is wearing a BLUE suit while the other two are wearing black. EXCITING and excruciatingly boring at the same time, but it WORKS. Dice roll: 6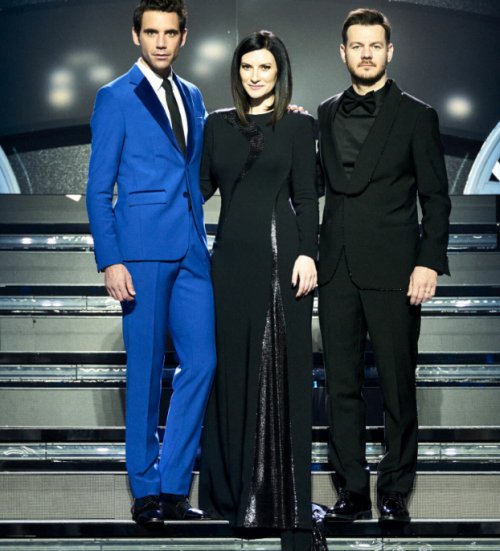 Another joyride: Croatia's Mia Dimšic ROCKS a pink miniskirt on the red carpet in Turin. Yours truly thinks miniskirts are SEXY and COOL and believes miniskirts should be worn almost ALL the time by most women (as long as they're not too fat) - so here's ANOTHER top score - Dice roll: 6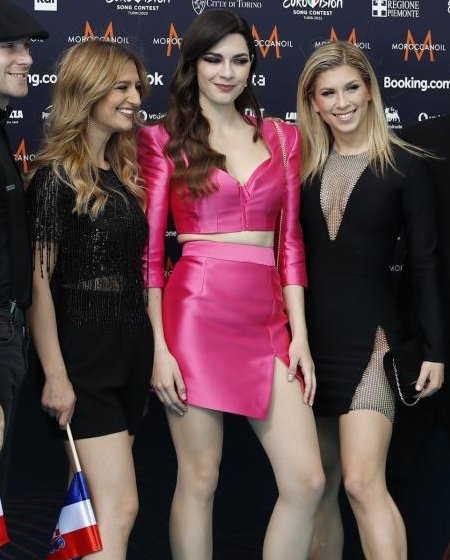 Unfortunately Mia didn't make it to the final, but it's probably due to the music - not the outfit.
Also, dear readers: In the picture below we have the rapping gang from Ukraine - who, by the way, have a solid favorite stamp on them because they are expected to get a fair number of sympathy votes as they were attacked by Russia and so on. But in any case, let's be AMAZED by this avant garde headpiece that undeniably resembles a LAMP SCREEN. This HAS to be EDGY HAUTE COUTURE that all of us fashion fans MUST let ourselves be impressed by. Dice roll: 5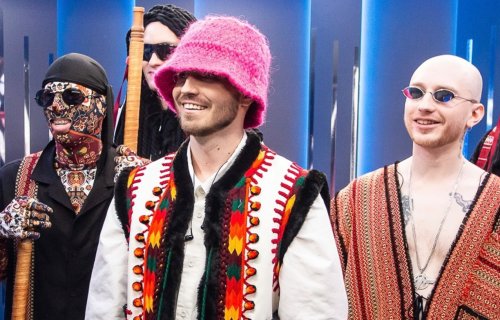 It should probably also be mentioned that the stylish guy on the left has tattoos all over his body - even on his face - ALL for fashion. We like to see this.
Italy's Mahmood is sitting in the picture below on stage and singing wearing a denim vest and SKIRT. Yes, innovative indeed and very edgy - but hey - it just looks a bit STUPID, I think. It has also been done BEFORE. (Conchita) I would probably have chosen something else, for example a blue jacket with black sweatpants. Dice roll: 3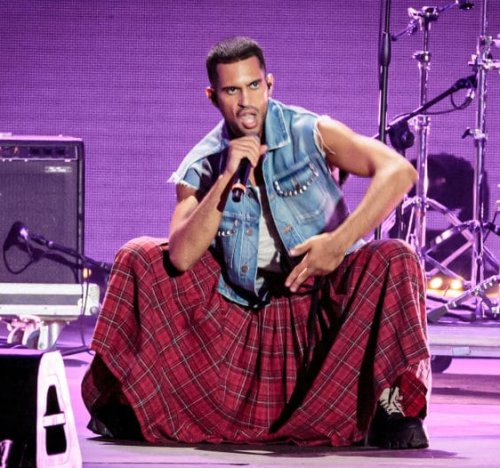 Fortunately, the guys from Moldova have most of it taken care of: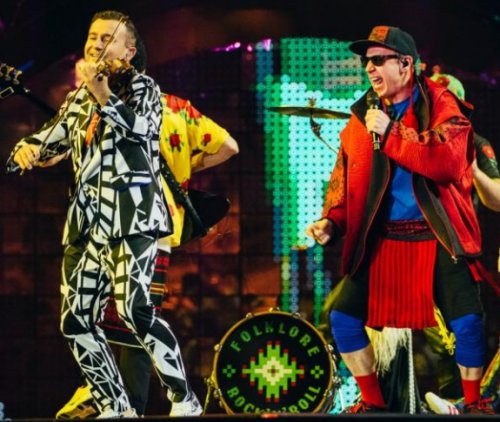 Black and white print on the suit works like GOLD, and the vocalist's PLAYFUL and BOY-like style with a kind of Indian loincloth and WAY too big jacket is FUN. The only thing that pulls it down a bit is the CAP. He could have ditched this, it would have been much better with a gray hat or something. Dice roll: 4
Next: TRUE avant garde. Sheldon Riley from Australia arrives in Turin in a snow-white EDGY creation. I think this is the biggest cape I've ever seen, and this works to a certain extent - but I would be afraid of it getting dirty, because EVERYTHING is showing on white, dear readers. I would also be concerned that people might accidentally STEP on it. Maybe not the best outfit if you're going to take the underground in London during rush hour. Dice roll: 3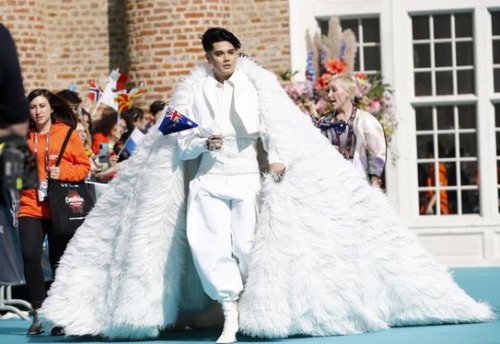 And then we have the lady from Albania... tst tsk. This is simply too TACKY (tasteless) for a fashion connoisseur like me: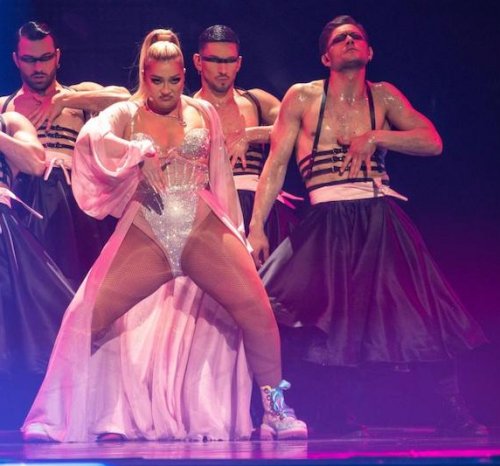 Underwear with a silk robe over it. No thanks. The only thing that draws attention is the artist's fashionable POUTY MOUTH. Dice roll: 2
Michael Ben David from Israel literally looks like he was BORN on the catwalk: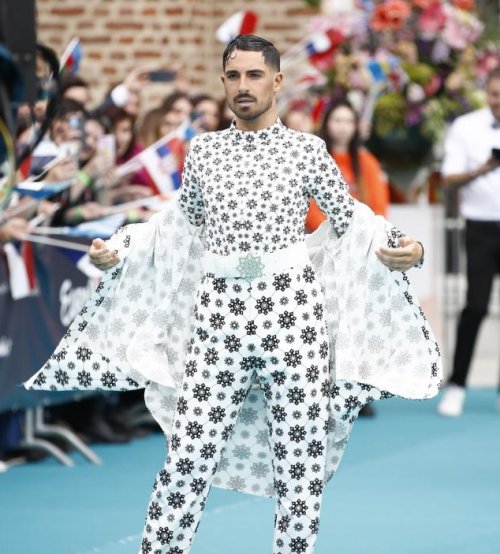 FIERCE look - PROUD pose - STAR on the belt - Flowers EVERYWHERE. FEMININE style with MASCULINE undertones - WOW. Dice roll: 6
Here's the gang from Romania: The guy on the right looks pretty FIERCE to me: See-through blouse with flower tattoo on the chest is IN right now I think.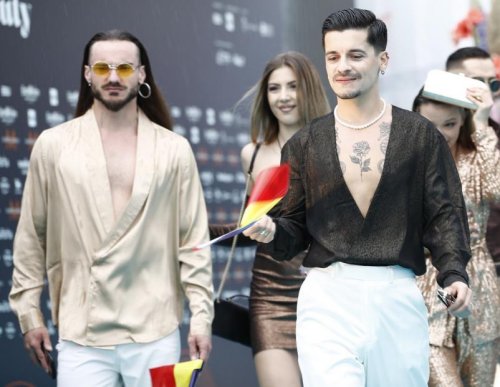 But the guy on the left.. oh dear. PAJAMAS on the red carpet. I Look upon this disapprovingly. Dice roll: 2
Andromache from Cyprus, on the other hand: Gorgeous babes in tight miniskirts are of course: Dice roll 6!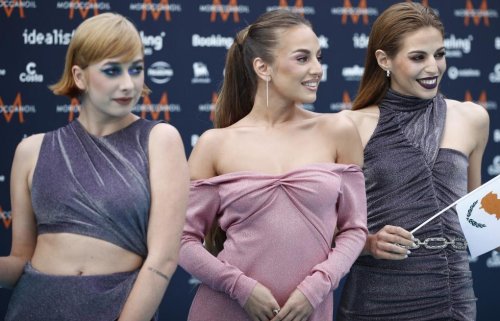 NORWAY ! Our dear Subwoolfers in BLUE suits and AVANT GARDE wolf masks are KNOCKOUT at most things - together with gold astronaut outfits, this will probably be a common sight in the streets of Paris, London and Milan from now on. Dice roll: 6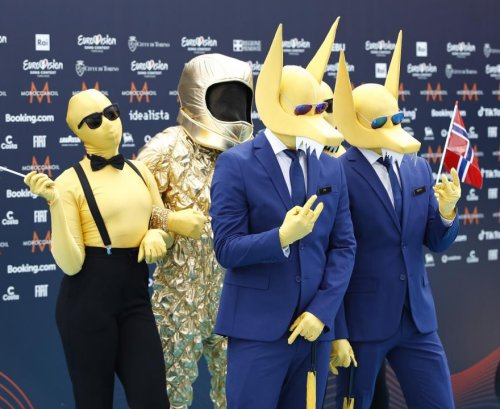 Then: PIRATE style from Georgia's "Circus Mircus". Here I have to say that the WOW factor (which is certainly present) is OVERSHADOWED by the fact that the pirate style was actually ABANDONED in the 15th century sometime, this is NOT something new, rather something very old. Dice roll: 1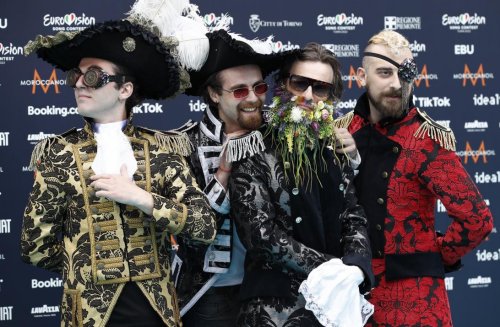 We end with a JOYRIDE: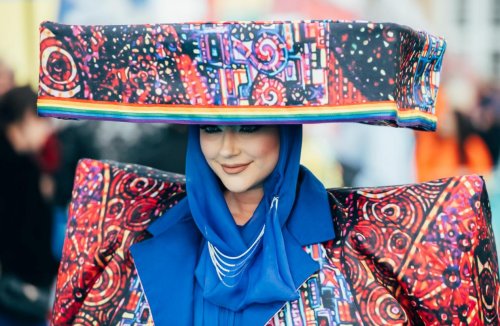 Albania's Ronela Hajati has something resembling a SUITCASE on her head!? This simply MUST be proper Avant Garde indeed. STRANGE - yes. But also WEIRD. Dice roll 5
This is actually so innovative that I HAVE to try it myself: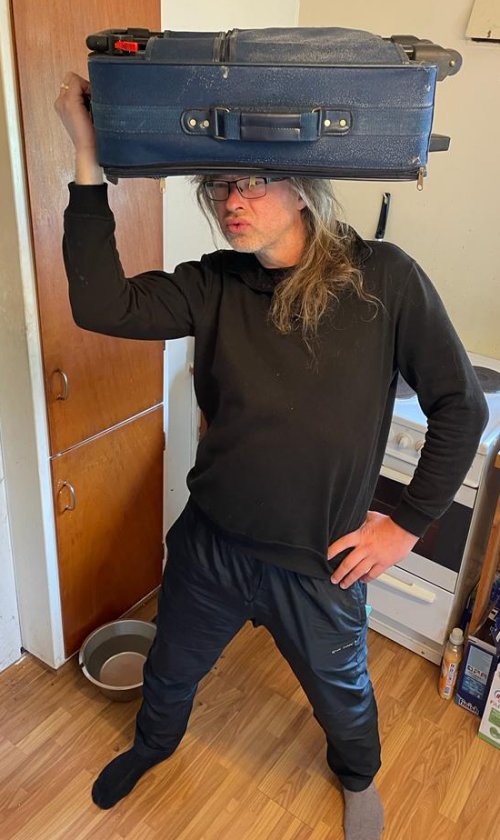 Yes - this WORKS. I dropped the puff sleeves to achieve a more STREAMLINED expression in the outfit with a relatively simple jumper and EDGY black sweatpants. I KNOW - eye candy INDEED. I should have been on the red carpet in Turin.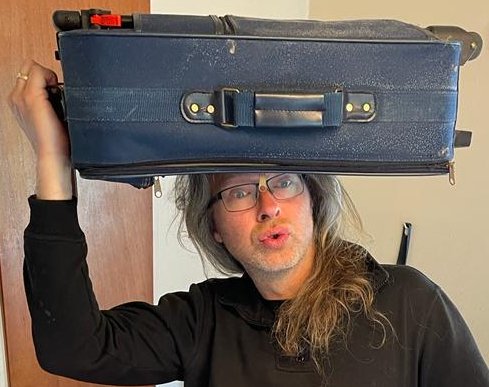 Cool.
In any case, it is VALUABLE with NEW edgy, fierce & fab IMPULSES from Europe. I'm already looking forward to next year's Eurovision.